Tilt & Turn Series
Multi-functional
The THERMOPLAST Tilt and Turn product line, with its touch of European styling, was developed for the North American residential, commercial and institutional markets.
Some of the features of this multi-functional, high-end window product line are: different depths of frames suited to a variety of construction purposes, the optimized thermal design of the profiles, and the option to use Ig configuration up to 42mm (1 5/8").
The THERMOPLAST tilt and turn window series exceeds industry standards and achieves a thermal performance of R8 and RE48 with energy efficient glass.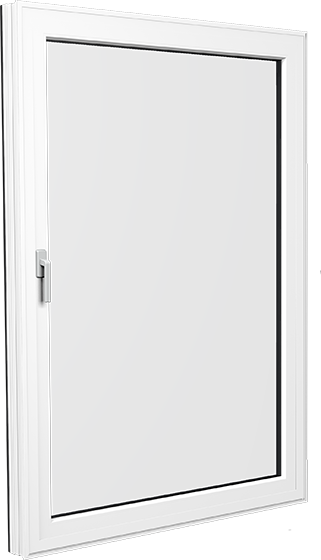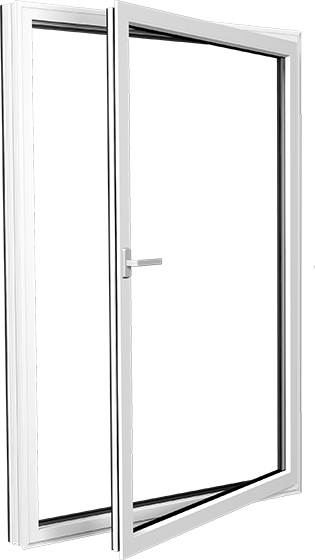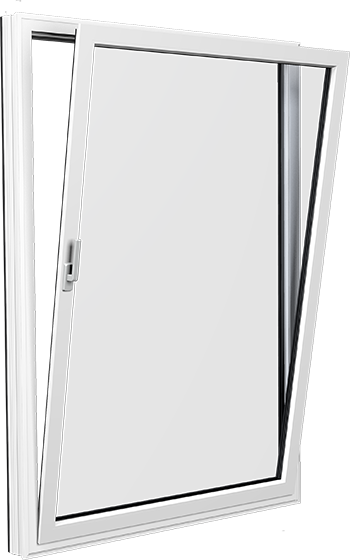 Beveled multi chamber frames (17) suited for several construction details 3 ¼" (83mm) and 4 ½" (114mm)
Beveled multi chamber sashes (15) designed for dead air insulation and high energy and structural performances
Different sash height offer (80mm and 110mm), for window and door application
Insulated glass package up to 42mm (1 5/8") for optimal thermal value
High-quality continuous compression weather seal on frames and sashes for air tightness, high water penetration resistance and high acoustical protection benefit.
Integrated nailing fin option on frames
Integrated groove detail for installation strip usage
Designed to accommodate hidden hinges hardware system
Outside and Inside accessory grooves on frames for a wide selection of standard options
Steel reinforcement for higher structural performances
Personalize your windows with various options:
Nailing fin
Triple pane I.G.
Integrated grills
Interior and exterior mouldings
Wide range of colors
Hybrid version - 6" Frame
(Aluminum exterior / PVC interior)
Standard exterior colours: White, Black and Clear anodised.
Models
Standards
Air tightness
Rating Size
Tilt & Turn
AAMA/WDMA/CSA
101/I.S.2/A440-08
A3
CW-PG100-DAW
(48" x 71")
Tilt & Slide
AAMA/WDMA/CSA
101/I.S.2/A440-08
A3
LC-CP55-SD
(95" x 83")
Fixed
AAMA/WDMA/CSA
101/I.S.2/A440-08
A3
CW-CP100-FW
(71" x 71")
Video available in French only.
This multi-functional window system can be used and fabricated in different combinations.
Dual Action / Tilt and Turn window and door
Two functions: the top of the window or door sash tilts in and opens by swinging inward
Tilt and Slide window and Door
The top of the window or door sash tilts in and the sash slides laterally
French Casement Window
Casement window
Hopper Window
The head of the window tilts in
Fixed window
With the steel reinforcement, the fix window allows large-sized panels
Swing Door
Same design to match your windows
Performances
The THERMOPLAST Tilt & Turn product line ensures superior structural performances, air tightness, safety and security, high acoustical protection benefits and energy savings.

Efficiency
Superior efficiency exceeding industry standards. Designed and fabricated to meet Passivhaus standards and LEED Certification criteria for 3 points. Also ENERGY STAR® certified in all North American zones.

Tightness
High-quality continuous compression weather seal on frames and sashes for maximum air and water tightness.

Security
Even when the window is open for ventilation, its partial opening in the upper part of the sash limits the risk of forced entry and protects children and adults against potential accidents and injuries.

Maintenance
95˚ opening for easy maintenance.

Savings
High energy efficiency to reduce the loss of heat and save on your energy bills.

Eco-design
Fabricated as per the eco-design criteria and sustainability, taking in consideration the environmental impacts.
Passivhaus • Leed • Energy Star®
Designed and fabricated to meet Passivhaus standards
Meets all LEED certification criteria for 3 points
Qualifies as a component for any Highly Insulated Building and first class energy assessment
Energy Star® certified in all north american zones
Made to reduce energy consumption and slow climate change through use of sustainable building elements
Manufactured using Eco-Conception and End of Life design to reduce waste
Most energy-efficient windows available in the new construction market
Performance Series
The most innovative and energy-efficient windows on the market, perfectly adapted to the needs of manufacturers and their customers.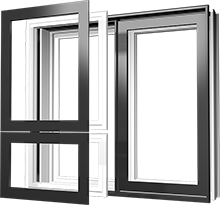 Custom Window Systems
Advanced extrusion technology serving engineering.